*Only $59
Includes X-Ray, Cleaning & Exam.
Includes: X-Rays, Complete Dental Exam, Dental Cleaning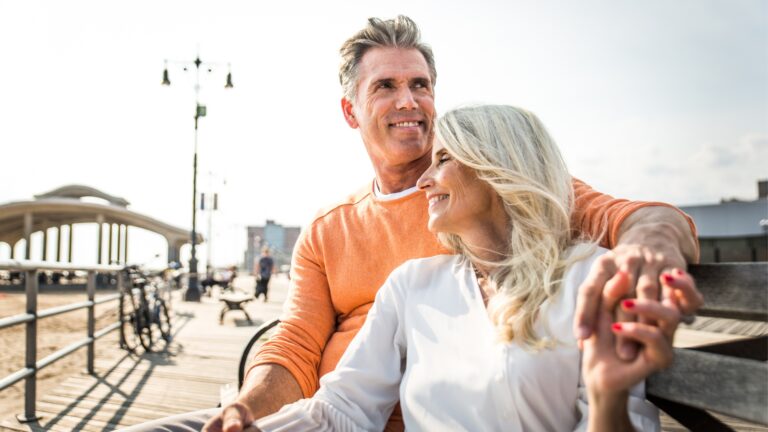 Includes: Implant, Abutment, Crown; Save $1400 off the regular price of $4,050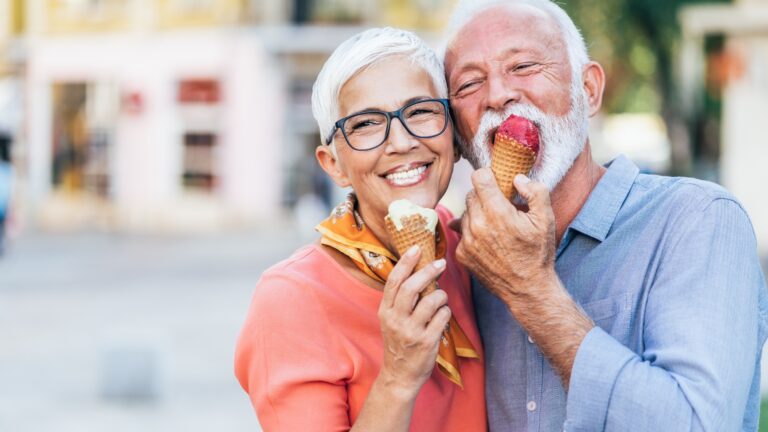 Professional in-office whitening for a fast,  effective brighter smile.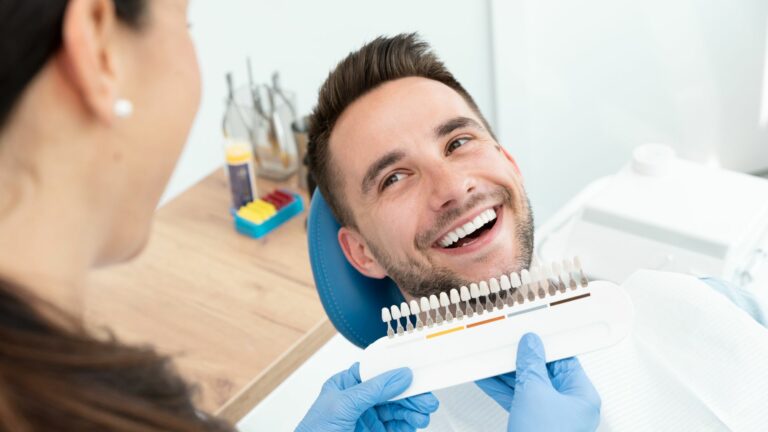 Our take home kit is a proven whitening solution.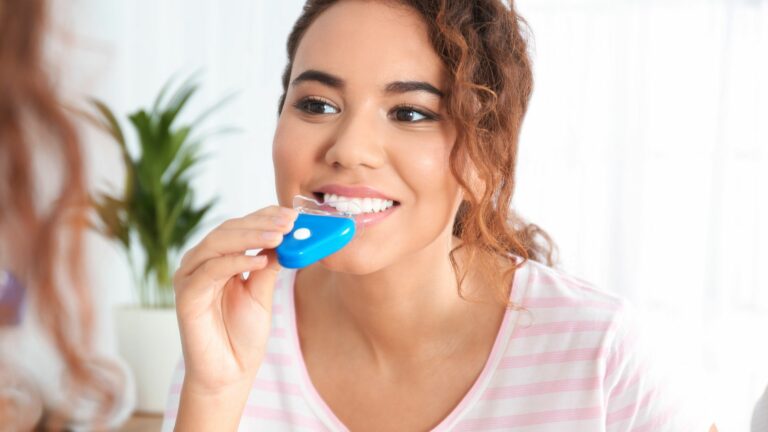 Smile Design Consultation
Sit down with our cosmetic dentist and explore what is really possible.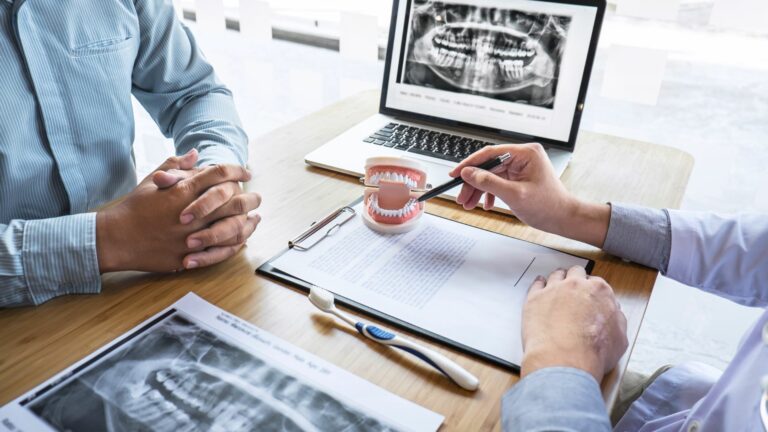 Invisalign® - An almost invisible solution to traditional orthodontics
It wasn't long ago that the best way to straighten your teeth was traditional metal braces. While braces are still an effective solution to straightening teeth they can cause the users to be apprehensive or even embarrassed of their smile.
Thankfully with the help of innovative technology and science orthodontic treatment has evolved. No longer are the metal brackets required with the barely there invisalign clear aligners that work just as effectively as traditional braces.
Invisalign® takes a modern approach to straightening teeth, using a custom-made series of aligners created for you and only you. These aligner trays are made of smooth, comfortable and virtually invisible plastic that you wear over your teeth. Wearing the aligners will gradually and gently shift your teeth into place, based on the exact movements your Miami dentist or orthodontist plans out for you.
There are no metal brackets to attach and no wires to tighten. You just pop in a new set of aligners approximately every two weeks, until your treatment is complete. You'll achieve a great smile with little interference in your daily life. The best part about the whole process is that most people won't even know you're straightening your teeth.
Our Madental & Associates team loves the before and after results that Invisalign delivers and we think you will too. If you're looking to straighten your smile, reduce crowded teeth, close gaps, and more schedule a consultation with us today!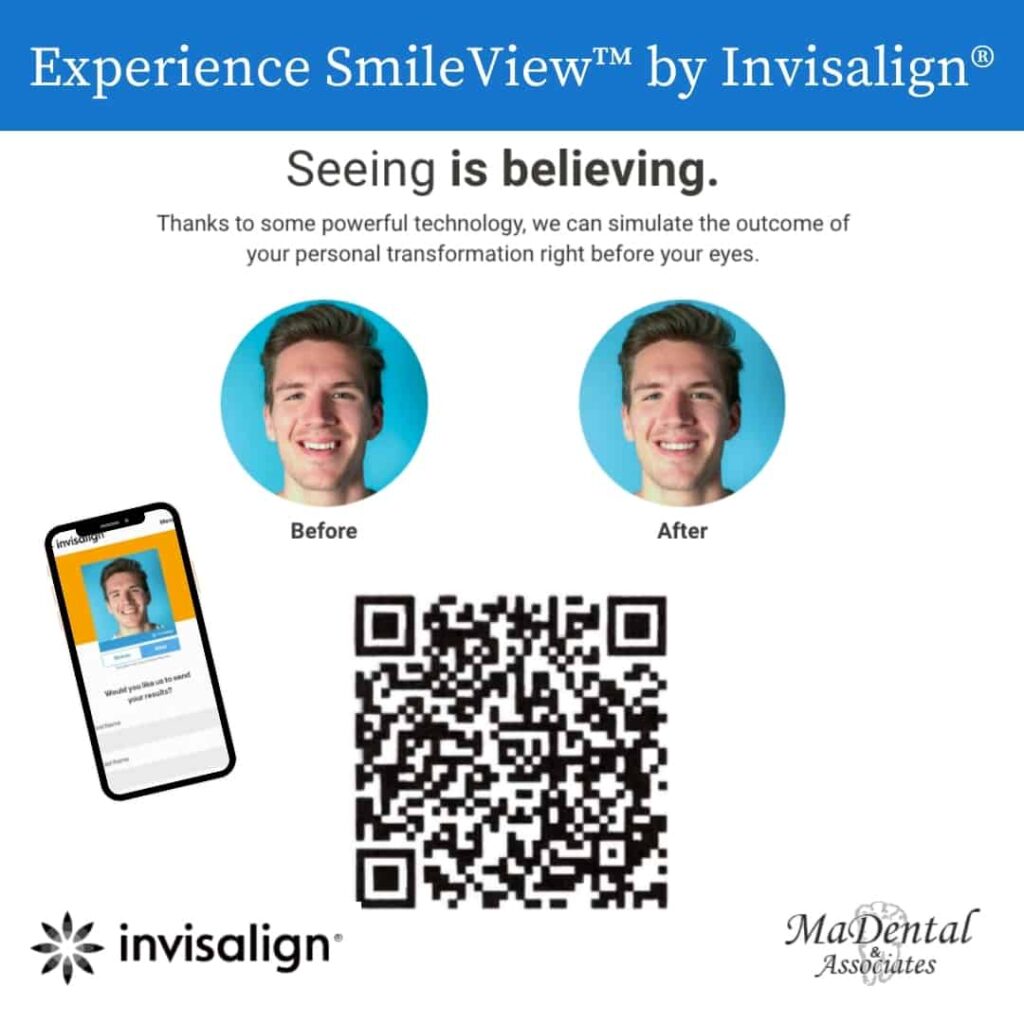 See your new Invisalign® smile in seconds. Scan the QR code to see your smile transformation.
01

Get your phone

02

Open your camera

03

Point it at the QR code

04

Snap your selfie

05

See your new smile
Frequently Asked Questions
Invisalign is a clear aligner system that uses a series of custom-made, virtually invisible aligners to gradually shift and straighten teeth without the use of traditional braces over time.
Invisalign aligners work by applying controlled yet gentle force to gradually shit teeth and move them into their desired positions over a period of time.
Invisalign is effective for a wide range of orthodontic issues, including crowding, spacing, overbites, underbites, and crossbites. However, severe cases might require traditional braces or other orthodontic treatments. If you're curious as to whether or not you'd be a good candidate for Invisalign in Miami ask a dentist at MaDental & Associates.
Invisalign treatment varies from smile to smile and truly depends on the complexity of the case. In some cases treatment can take anywhere from 6 to 18 months in others it can be longer. The dentists at MaDental & Associates can provide a more accurate estimate based on your individual smile goals.
Invisalign aligners should not be worn when drinking and eating.
Invisalign treatment costs can vary depending on your location, the complexity of your case, and other factors. In some cases, Invisalign might be comparable in cost to traditional braces.
Whether or not your insurance covers Invisalign is based on several factors. Typically if they view it as medically necessary they may cover the cost or at least a portion of the cost. Many dental insurance plans that cover orthodontic treatments also cover Invisalign.